CASE F Series – Compact Wheel Loaders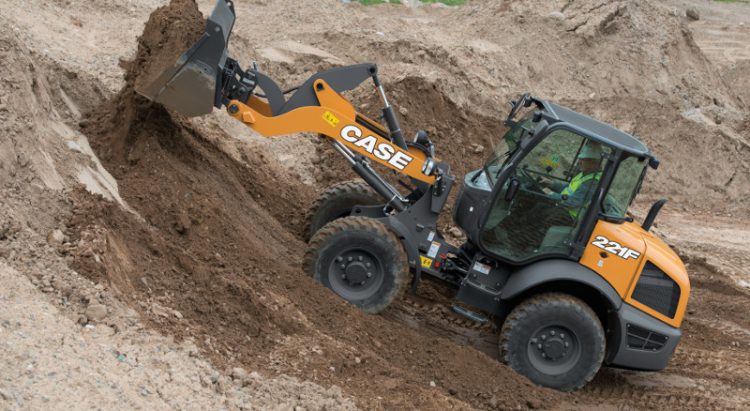 21F
Lift Capacity @ Full Height
5,287 lb | 2,398 kg
Operating Weight
5,287 lb | 2,398 kg
121F
Lift Capacity @ Full Height
5,265 lb | 2,388 kg
Operating Weight
11,023 lb | 5,000 kg
221F
Lift Capacity @ Full Height
8,317 lb | 3,773 kg
Operating Weight
12,547 lb | 5,691 kg
321F
Lift Capacity @ Full Height
8,354 lb | 3,785 kg
Operating Weight
13,303 lb | 6,034 kg
Compact Wheel Loaders Brochure
MAINTENANCE-FREE TIER 4 FINAL SOLUTION
All F Series compact wheel loaders are Tier 4 Final certified and incorporate a proven maintenance-free solution. No regeneration, no expensive filters to replace, no extreme exhaust temperatures and no after-treatment fluids to add.
STRONGER, LOWER-PROFILE FRAME
A solid compact frame provides tighter turning radius, better clearance into barns and outbuildings, and better maneuverability on constricted job-sites and narrow feed passageways, while the Z-bar linkage provides stronger breakout force for the toughest jobs.
PRECISE CONTROL
The Inch & Brake pedal progressively disengages the transmission in the decelerating phase while progressively engaging the brakes, allowing power to be diverted to the loaders hydraulics without disconnecting the drive yet still maintaining constant engine rpm. Optional Creep Speed allows the operator to independently set engine RPM and ground speed for greater control and performance with various attachments.
MINIMUM SPEED, MAXIMUM FLOW
The High Flow option comes with Creep Speed, which provides maximum hydraulic flow at constant speed in the 0 to 3.4 mph (5.5 km/h) range, ideal for tasks such as snow plowing and cold planing. Front electrical socket and case drain complete the package.
GROUND-LINE SERVICEABILITY
Easy access to all daily and routine service points.
QUICK HYDRAULIC HOOKUPS
Skid steer style coupler and auxiliary hydraulic connections make attachment hookups fast and easy.
EXCELLENT STABILITY
The rear axle on the F series oscillates to a maximum angle of 20 degrees, allowing the rear wheels to maintain contact with the ground in undulating terrain. This system enhances overall safety and load retention.
CASE F Series Features
Maintenance-free Tier 4 Final Solution

Large comfortable cab

Ground-line serviceability

Greater lifting and breakout force

Low profile frame

SGreater versatility with High Flow and Creep Speed
Support Comes Standard
Base & extended warranty coverage

1-year/unlimited-hour full-coverage base limited warranty

2-year/2,000 hour extended limited engine warranty

Uptime solutions

Genuine CASE parts & expert service

Better parts availability & faster deliveries

CMI has exclusive access to the Electronic Service Tool (EST) that quickly pinpoints machine issues.

Specialized finance programs & flexible leasing packages